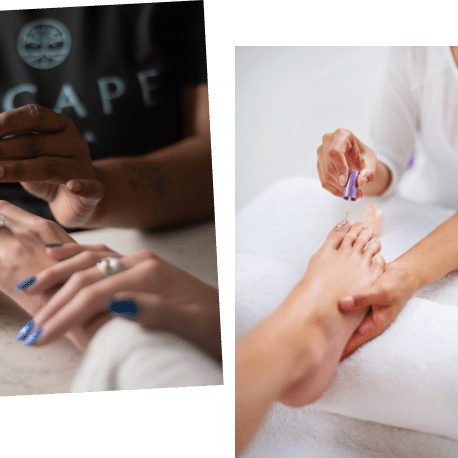 Manicure and Pedicure In Birmingham, AL
Take A Deep Breath And Relax
Treat yourself to silky soft hands, beautiful nails, and a short escape from the real world with our luxurious mani and pedi services. We exclusively use hand-picked products with no harmful chemicals or damaging ingredients, leaving your hands and feet feeling better than ever.
Aromatherapy Steam Pedicure
This foot facial helps to open up the pore and gain more from your sixty-minute session of true relaxation. We start with an aromatherapy steam barrel before exfoliating, manicuring, and polishing for beautiful results.
Aromatherapy Manicure & Steam Pedicure / $100
Escape Aromatherapy Pedicure
Select from our custom, handmade soak and scrub blends for a unique experience with mineral-rich salt exfoliation and rejuvenating massage to make the most of your visit.
Aromatherapy Manicure & Escape's Aromatherapy Pedicure / $90
Choose the Escape experience with a complete manicure service, including careful attention to your hands with a luxurious hand massage and organic products to make you feel good.
Regular / $35
French / $45
Escape Aromatherapy Manicure
Drift away on a cloud of comfort with a whole hand and arm exfoliation, a massage with organic essential oils of your choice, and elegant grooming to restore your hands effortlessly.
Regular / $45
French / $55
Relaxing Hand & Arm Treatment
Erase tension from your hands and arms with this smoothing, soothing treatment in our Birmingham day spa, including a slow massage and enhanced moisturization for intense smoothness.
Our dedicated men's grooming service restores your hands with careful treatment and tidying to help you look your best.
Couples Manicure And Pedicure Experience
Aromatherapy Steam Pedicure For Two

Signature Aromatherapy Pedicure For Two

Aromatherapy Pedicure & Escape Manicure For Two
Nail Treatments At Escape Day Spa
Want An Even More Relaxing Experience? Check out our add ons for an even more relaxing experience