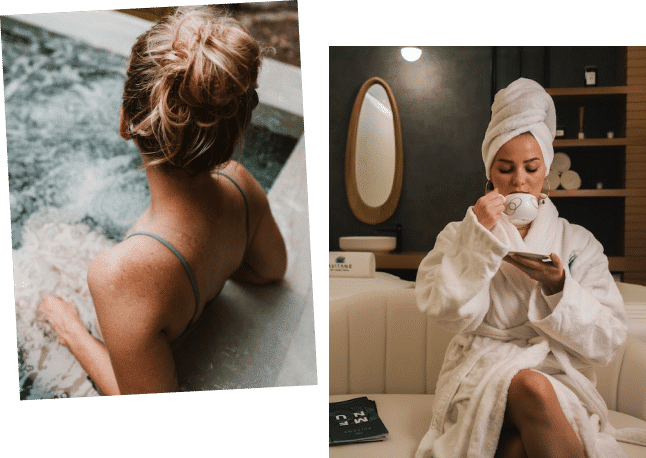 Spa Services In Birmingham, AL
Our luxurious spa services encompass a wide range of holistic techniques and relaxation-first experiences designed to help you leave all of your stress and real-world worries behind. Immerse yourself in our services at our day spa in Birmingham to get in touch with yourself and enhance your confidence effortlessly. Spa Packages
If you need true relaxation and to feel at one with yourself, our spa packages are the ideal place to start. Enjoy the peace and luxurious comfort with an escape from real life, with packages to suit every lifestyle and bespoke solutions to make you feel at ease. Massage
Embrace true relaxation with a luxurious massage designed to boost energy, improve circulation, and benefit your body and mind. Our incredible massage treatments help you to leave the real world behind and enjoy the here and now for true rejuvenation. Body Treatments & Wraps
Our body treatments and wraps are the ideal way to condition your body and enhance your feeling of wellness. The perfect choice for skin problems, aches, and detoxification, our body treatments and wraps target the heart of your situation to help you feel refreshed. Facials
Facials provide the ideal way to treat your skin and reduce the tension and toxicity caused by day-to-day life. Our relaxation-focused approach allows you to drift away as we enrich your skin with a selection of luxurious products tailored to your concern for an all-natural glow.

Mani & Pedi
Get a touch of luxury with our manicure and pedicure services, keeping your hands and feet looking their best with none of the harsh chemicals, thanks to our in-house handmade soaks and scrubs. The ultimate in self-care for anyone short on time.

Spray Tan
Transform your complexion with all-natural self-tan, created from organic, natural ingredients with none of the harsh effects of tanning beds. Our spray tans are designed to make the most of your natural self, adding bronzed, attractive color while nourishing and hydrating your skin.

Hair Removal
Our hair removal and waxing services leave you silky smooth, with cared-for skin that's as soft as it is hair-free. We help you look and feel your best with our skilled team of spa therapists delivering beautiful results that are long-lasting and confidence-boosting. Lashes
Transform your makeup routine with lash extensions, giving a new meaning to 'no makeup' makeup. Our skilfully applied lashes are available in various styles for natural or dramatic looks, plus tints and lifts to make the most of your natural features.

Microneedling
Rejuvenate and restore your skin with our luxurious microneedling treatment, utilizing innovative technology to induce collagen production. Microneedling reduces the appearance of scars, wrinkles, and stretch marks, giving you the confidence you need to love your skin.

Hydrafacial
Provide your skin with lasting moisture for a beautifully cleansed, plumped appearance that's immediately noticeable. Our unique hydrafacials treat your skin to the luxury of intense hydration, transforming your appearance and leaving you feeling better than ever. Spa Parties
Our spa parties are perfect for a birthday, bridal shower, bachelorette party, ladies night out, or just for relaxation with friends. We specialize in customizable spa packages that include massage, facials, body treatments, manicures, and more!