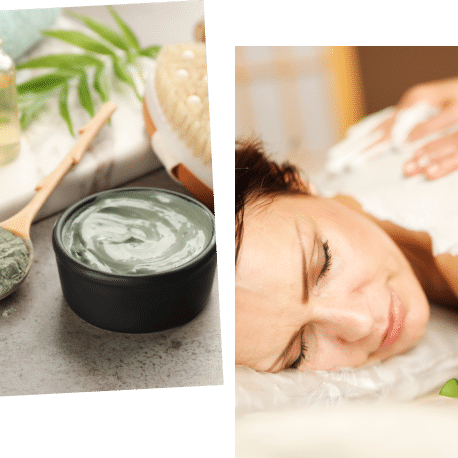 A luxurious wrap or full-body treatment is ideal for promoting wellness, enhancing rejuvenation, and detoxifying the body. We help you leave stress behind and escape the tension of daily life with a range of luxurious spa treatments in Birmingham, immersing you in a relaxed, meditative state and leaving you ready to take on the world.
Our handcrafted salt blends provide a luxurious, healing experience, enriched with various minerals and aromatic essential oils to replenish your skin while encouraging true relaxation.
We use a blend of salts and essential oils. Each blend has different ingredients, lavender, orange, peppermint, and custom blends. Our oils and salts are sourced only using companies who guarantee clean pure products. We believe in whole-body wellness with all of our products, inside and out.
Our tailored salt blends exfoliate your skin gently, removing and replenishing it to reveal glowing, soft, and smooth skin underneath.
By replenishing your skin with minerals, oils, and botanicals, we can enhance skin cell regeneration and improve hydration for long-lasting results.
Our salt glow treatment is the ideal choice to leave your skin smooth, soft, and touchable without any of the damage of harsh exfoliation methods.
Moor Mud Detoxifying Body Wrap
Naturally enriched with bio-minerals and nutrient-rich substances, this treatment provides gentle detoxification while leaving your skin beautifully, luxuriously smooth, and clear.
More than 100 herbal, plant and flower species are used in the Spa Pantry Moor Mud we use, customized to your preferences and personal tastes with essential oils and entirely vegan and cruelty-free.
Our enriched mud leaves your skin feeling smooth, soft, and luxurious for days following your treatment, enhancing cell renewal.
The detoxifying power of our body wrap helps to remove all toxins holding you back, helping you feel lighter and more relaxed by absorbing impurities.
Harmonizing imbalances within your body is ideal for reducing stress and feeling connected with your body through purification with human and fulvic acids.
Escape's Mind & Body Balancing Treatment
This balancing treatment is designed to benefit your mind and body. Our handcrafted aromatherapy scrubs and organic body clay bring everything back into balance for a detoxified, stress-free, relaxed self.
Your choice of aromatherapy scrub heightens our luxurious experience, allowing you to gain maximum enjoyment from detoxification. We use French Green Clay, which is rich in Calcium, Magnesium, Silicon, Potassium, Selenium, Titanium, Aluminum, Cobalt, Phosphorus, Sodium, Copper, and Zinc. These minerals provide excellent absorbency, drawing toxins from the skin.
Detoxification is key to beginning the healing process, with our balancing treatment helping you find harmony within your body and mind.
Glowing, beautifully refreshed skin means you carry the effect of our treatment with you for days after your session at our Birmingham day spa.
Women's Balancing Organic Body Wrap
This unique herbal treatment utilizes centuries-old treatments and herbs combined into a gentle, organic scrub and applied as a paste with lasting health benefits.
A blend of Ayurvedic, Chinese, and Western herbs are used in this treatment, including Cornstarch, Oats, Ginseng, Brahmi, Amalaki Moong Dahl, Dong Quai, Ashoka, Black Cohosh Green Tea, Vitamin C, Shatavri, Saw Palmetto Musta, Echinacea, Coriander, Ginger, Manjishtha Fenugreek, Lum and Turmeric.
This treatment helps to alleviate a range of menstruation-related symptoms, restoring your body to wellness and relaxation.
Each 20-minute session helps to alleviate tenderness, bloating, and similar health concerns, bringing balance back to your body and minimizing free radicals.
As a women-exclusive treatment, the benefits of this handcrafted blend of herbs are far-reaching for a wide range of hormonal fluctuations.
Full Body Treatments At Escape
Want An Even More Relaxing Experience? Check out our add-ons for an, even more, relaxing experience!